whats up niqqas ill try to keep this short and simple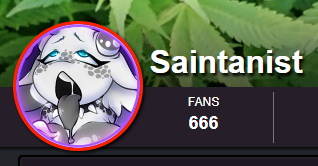 i hit my goal
so a big ol T H A N K to all of you that have dealt with my furry bullshit for all these years!!
and thank and welcome to all of the newcomers nwn
this is gr8 u guys
now, in order to enter, all you need to do is react to the journal with the heart eyes emoji

wuts da prize?? it'll be a full body commission thats nsfw as fuck and shaded. it'll be big and really cool
now the thing is, its gotta have one of my OC's
so if u dont like my hot furry/demon babes and dudes gtfo lol
but the winner can also be in the drawing so chyeah B)
im into a lot of weird shit, but there are also a lot of things i wont draw
but i wont get that much into it until the raffle is over
the winner will get all the details and shit
so yeah, react away if you wanna participate
anyone on this site can react as well, you dont have to follow me
for TWO ENTRIES, send me a funny youtube video. doesnt have to make me laugh, but if it does, you'll get 3 entries!! as long as you remembered to react to the journal~ ;3
and this is a stretch, but as another bonus for more entries, if you commission me for something before the raffle is up, you'll get another 2 entries. So you can have 5 in total. c:
so yeah. let's say the raffle starts today, at 5/23, and will end on 6/8
Just to make sure everyone gets a chance at reading this and reactin if they want to.
At the one week mark I'll shoot out another journal as a reminder. But ye!! HAVE AT YE